Lasciate ogne speranza, voi ch'intrate
The Summary
Rachel is awoken by Ax, who tells her that David has turned on them and Tobias is possibly dead. They follow David to the mall, where he has won his fight with Jake who is slowly bleeding to death on the ground. Luckily the police show up and call Cassie's mom, who saves him.
David goes to Marco's house and acquires his DNA and also hits Ax in the face with a baseball bat. The next day, he shows up at school in Marco morph to demand the cube from the Animorphs, who tell him to GTFO. Rachel threatens his family and he leaves.
The World Leaders subplot is resolved in a ridiculous way, freeing everyone up to worry about David full time. David acquires the DNA of Rachel and Jake's cousin Saddler, who was in a near-fatal accident two books ago. Saddler's family is so happy to see him alive and well that they don't even question the fact that all his injuries are gone. The real Saddler's body is implied to be stashed in the elevator shaft and is not found until after the end of this book.
The Animorphs lead David to believe that he has won, which makes his sociopath self happy. They tell him that they are going to give him the cube, and Cassie will show him where it is. David demands Rachel do it instead (which they anticipated) and so they both morph to rat to get the pieces from where Cassie hid them, inside various pipes at the construction site.
Rachel leads David right into a trap. He is stuck inside a metal box and cannot demorph without killing himself. The Animorphs wait two hours, and then drop David off on an island a few miles away from the shore.
The Review
Ifi
: Do you want to talk about the cover?
Ifi
: I think this one is actually okay.
Adam
: The background color doesn't fit with the morph at all.
Adam
: With a rat morph, you need a grungy looking green or brown.
Adam
: But a normal looking blue sky just seems out of place.
Ifi
: I am happy for the normal looking sky
Adam
: Also, I think it particularly emphasizes the fact that the rat looks like it is floating
Ifi
: Everyone is always floating
Adam
: Yes, but in some covers it is more noticeable than others.
Ifi
: It is because they are on acid
Ifi
: I think I shared this theory with you?
Adam
: Yes, yes, we know.
Adam
: I honestly find the inside cover to be pretty successfully creepy
Welcome to the first day of the rest of your life.
Adam
: So, we begin with Rachel having a dream.
Ifi
: Yeah that was stupid
Adam
: Well, at least it wasn't like that one time, where I showed up at the Yeerk pool in only my underwear.
Adam
: And then they wouldn't let me morph until I took the math test.
And I was deep in this strange dream that seemed to involve me trying on dresses at my favorite department store. Only the salesladies kept bringing me things that were way, way too small.
So I said, "Hey, can't you tell these aren't my size?"
And the saleslady said, "Well, we don't have anything in your size."
"What?" I demanded. "You don't have anything in size three hundred and twelve?"
Wait a minute, I thought. I don't wear size three hundred and twelve. But at that moment I caught sight of myself in the mirror. And I was in my elephant morph.
I was still growing. Bigger and bigger, till my massive bulk was pressing people against the walls and floors and ceiling.
I looked down, and there, beneath one massive fold of elephant belly, was a small figure in an orange hooded sweatshirt.
"Oh, my God! She killed Kenny!" someone cried.

----Book Twenty-Two, The Solution
Ifi
: Pointless shout-out?
Adam
: Extraordinarily pointless shout-out.
Ifi
: So Ax wakes her up, and we're right back where we left off.
There, in the darkness of my room, the large gray bird fluttered back and knocked into my desk.
"Tobias?" I whispered. Only it wasn't a red-tailed hawk. It was like a hawk, but gray and white.
<No, it's Aximili. You must come now. Tobias is…missing. And Prince Jake is in danger.>

----Book Twenty-Two, The Solution
Ifi
: They fly around and eventually find Jake in the mall
Ifi
: In tiger morph
Ifi
: getting blood everywhere
I looked at Ax. We both strained, listening. A ringing sound. Coming from…coming from a jewelry store about ten storefronts away. Staring hard, I could see the broken glass on the floor. Someone had knocked out the window to the jewelry store.
David! Of course. He was probably stuffing a sack full of diamonds right now.

----Book Twenty-Two, The Solution
Ifi
: Classic David
Adam
: David is suddenly the old Cookie Crisp mascot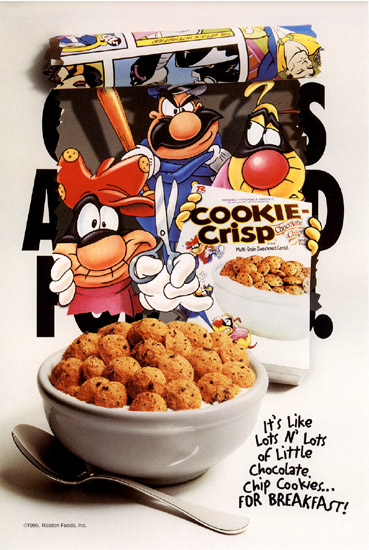 Adam
: I never quite got why one was a dog and one was human.
David reached a claw through the bars and raked at me. I felt the breeze from his claws. I stood, motionless, poised, and barely in control.
David glared at me with furious, yellow eyes.
<That's okay,> he said. <I'm not a murderer, you know. I wouldn't kill a human. Now, a bird…a tiger…sure.>
I stared back at the lion. The traitor. And I said, "Find a place to hide. Because I'll make you a promise: I will kill you, David."
He turned and walked away, laughing as he retreated.
"I'll kill you!" I screamed. "I'll kill you! I'll kill you!"

----Book Twenty-Two, The Solution
Ifi
: Context: She thinks Tobias is dead
Adam
: That helps.
Adam
: A little
Ifi
: Rachel spends 90% of this book internal monologuing about how she'd like to kill David
Adam
: Oh Rachel, you so crazy.
Adam
: But yes, that's pretty much the plot.
Adam
: Fort those not prepared, shit just got dark.
A loud, booming, vibrating human voice said, "What the…that's a tiger! Frank! That's a tiger! In the mall."
"That sure as shooting is a tiger."
"What do we do with it?"
"Call it in to the sergeant. It's hurt. Need to call someone…and I'll be racked if I know who. Just keep your weapon on it. It could still be dangerous."

----Book Twenty-Two, The Solution


Ifi
: And who should show up
"Set up for an IV. He's lost a lot of blood," Cassie's mother said in a clipped, professional tone I'd never heard before.
[...]
"Wait a minute, I know this tiger," Cassie's mother said. "He's one of ours. He's from The Gardens. No one alerted me there'd been an escape! Okay, now squeeze the bag a couple of times to get the blood flow started. I'm going to close that wound right here and now. He won't make it otherwise."

----Book Twenty-Two, The Solution
Ifi
: I am really really impressed that she recognized the tiger
Adam
: Hey, you work with animals all day, you learn to tell them apart.
"A tiger, here? With no one knowing it's escaped? It must be one of the Andalite bandits in a morph."
We knew the police force had been partly infiltrated by the Yeerks. Still, it was a shock hearing them talk about Andalites.
"You may be right, but there's nothing we can do about it. None of the other cops here are our people."
"Visser Three won't take that attitude," the first cop said, shivering despite the fact that it was not cold. "He'll think we should have found a way to kill it."
"Then maybe Visser Three doesn't need to hear about this."
"Yeah. No need to bother him with every minor thing that goes on. Yeah. We keep our mouths shut."

----Book Twenty-Two, The Solution
Ifi
: I love it when we get to hear the other Yeerks talking shit about Visser Three
Adam
: He probably knows that everyone is always talking about him behind is back.
Adam
: This is why he always ends his day by sticking a hoof into some ice cream and sobbing himself to sleep.
Ifi
: Oh dear
Adam
: You know that it's true.
Ifi
: So they go to get Marco, who has managed to sleep through this whole thing
<Marco!> I called in thought-speak. <Marco! Wake up! Wake up, now!>
I wanted to see him wake up and look around. I wanted to make sure he was alone in the room. He was asleep facedown. He rolled halfway over and gave the blankets a kick.
<Wake up!> I yelled.
Suddenly he sat up and looked around. He scratched his face. Then he looked around again.
<Marco, it's me, Rachel. I'm outside. Are you alone in your room?>
He didn't smile or leer. He just nodded. Yes, he was alone.
<Okay, let's go,> I said.
Ax was ahead of me. He swooped down toward the window. Marco stood watching, smiling almost. His hands were behind his back.
Swoooosh! Ax swooped through the window and—
Marco pulled his hands out from behind his back. The Louisville Slugger swung in a short, sharp arc.

----Book Twenty-Two, The Solution
Adam
: Oh dear.
The bat hit Ax square in the face. I saw a piece of shattered beak go flying, twirling away like shrapnel from an explosion.

----Book Twenty-Two, The Solution
Ifi
: AAAAAAAGH
Adam
: @_@
Ifi
: AAAAAAAAAAAAGH
Adam
: That...
Adam
: That is unpleasant sounding.
Ifi
: I DON'T WANT TO PLAY ANYMORE
Adam
: You have to keep playing until the game is finished.
Adam
: And then all the animals get sucked back into the game board.
Ifi
: You're an idiot
Adam
: What did I ever do to you?
Ifi
: Force me to listen to thousands of horrific puns
Adam
: You know you love it.
Ax lay on the grass, unmoving. Marco/David held up one finger. Then another. Then another. One, two, three.
He was counting how many of us he'd killed.
One, two, three: Tobias, Jake, Ax.
But…it should have been four! What about Marco?
Of course! Marco was still alive because Marco had been human. David had said it himself: He would never take a human life. He would only kill animals. A hawk, a tiger, a harrier. Not a human.

----Book Twenty-Two, The Solution
Adam
: So…where is Marco, exactly?
Adam
: How exactly did David manage to incapacitate him?
Ifi
: Marco is tied up in the closet
Ifi
: I am assuming David snuck into his room while he was asleep
Adam
: So? Marco can turn into a fly or a snake or a flea.
Ifi
: Oh
Ifi
: Huh
Adam
: I mean, all 5 of them only just barely managed to keep Jake hostage.
Ifi
: idk lolz
Adam
: And Jake was chained up, not just with rope.
Ifi
: So Rachel tries to trick David into flying into some power lines, but it doesn't quite work
David was going to win. My mind began shutting down. I should demorph, I told myself. But no, I was too high up. And it was so hard to concentrate. So hard to focus.
David was actually carrying me higher, lifting me up. That way, if I did demorph, I'd fall to my death.
<Sorry, Rachel,> David said. <But after all, birds die all the time, don't they?>
And that's when it happened.
I saw it drop from out of nowhere. Out of the sky. Out of the clouds it dropped.
Wings back, talons raked forward.
It hit David in the back of his head! Eagle feathers flew. David screamed in pain.
And Tobias—yes, Tobias—said in private thought-speak, <Rachel, David is really getting to be a pain in the butt.>

----Book Twenty-Two, The Solution
Adam
: Cue the dramatic music.
Ifi
: Now, even though Tobias is not dead, it does not make that much of a difference to Rachel in terms of wanting to murder David
It turned out that David had killed a red-tailed hawk. And Jake had seen that dead hawk. Only it was a different red-tail.
Tobias had simply lost David early in the evening and had been searching for him ever since.

----Book Twenty-Two, The Solution
Ifi
: How many innocent red-tailed hawks are dead by the end of this series?
Adam
: And they're already endangered to begin with.
Adam
: Poor redtails.
Adam
: They endure so much.
Ifi
: They're not endangered, they're incredibly common
Adam
: I am thinking of the wrong raptor, I guess.
Cassie's mother was seriously freaked. Not only had a near-dead tiger simply disappeared. He seemed to have reappeared back in his environment. And there were no signs of any injuries.
Cassie explained that she did a lot of shrugging and kept saying, "I can't believe it, either, Mom. I was only out of the room for a second."

----Book Twenty-Two, The Solution
Ifi
: Yeah I got nothing either.
Adam
: Well, it doesn't matter. She will never mention this event ever again.
As for Marco…well, Marco awakened to find David standing over him with the baseball bat. He'd been tied up and locked in his closet. It took him the rest of the night to get loose.

----Book Twenty-Two, The Solution
Ifi
: Confirmed: Marco forgot he could morph
Adam
: I think perhaps David hit him in the head a bit harder then he should have.
Ifi
: That is actually a very good explanation
Adam
: And now Marco is going through the rest of the book with severe brain trauma.
Adam
: So let's all keep this in mind for later.
Ifi
: Anyway, nobody dies and the Animorphs all go to school. They are so exhausted that they even say "Screw it" and all eat lunch together
Adam
: Of course, a few controllers in their class happen to notice, and they all get taken to the Yeerk pool in their sleep the following night.
Adam
: The end.
"Hi, guys, how's it going?" Marco said. He swung his leg over the back of the chair and sat down. Tired as I was, that set alarm bells ringing in my head. Marco doesn't swing his leg over chairs. And Marco doesn't act that perky, even when he's had a full night of sleep.
I guess Jake had the same reaction. I glanced at him, and all of a sudden his eyes weren't glazed and unfocused anymore.
"David, I presume," Jake said harshly.
Marco smiled. And then I saw Marco—another Marco, just starting through the food line.

----Book Twenty-Two, The Solution
Adam
: And nobody notices.
Ifi
: It's true.
I couldn't morph, not there in front of a whole cafeteria full of yelling, laughing, talking kids. But I could reach for my fork. And I could wonder what the tines would do if they were driven hard enough into—I held on to the fork.

----Book Twenty-Two, The Solution
Ifi
: Woah now
Ifi
: I don't like David either
Ifi
: But really
Adam
: I am wincing
Adam
: Pretty hard right now.
Ifi
: Also, the Animorphs trick David into believing that Tobias actually is dead because, sure, why not
Adam
: Hey, every little advantage counts.
Ifi
: David asks for the morphing cube, the Animorphs say GTFO, and so he leaves
David walked away. The real Marco headed toward us, looking about like I felt.
I got up.
"Rachel, what are you doing?" Cassie asked. She put out a hand to grab my arm.
But Jake said, "Let her go."

----Book Twenty-Two, The Solution


Ifi
: Well this should be good
Adam
: Y'know, this is a thing.
Adam
: All throughout the book, David is demanding the morphing cube from them.
Adam
: But they never really explain why he wants it
Adam
: Or at least, they never really do a good job of it.
Ifi
: I think it's sort of implied he wants to either start a gang or trade it to Visser Three for his parents
Adam
: Well, he admits later on that giving it to Visser Three is a bad idea.
Adam
: But starting a gang is just as bad of an idea.
Adam
: I mean, look what happened when the Animorphs inducted some goth kid.
"So see, you sell us out to Visser Three, we will know," I said.
He shrugged. "Big deal. Nothing you can do about it."
"Yeah, you're probably right," I said. "Even if we were warned, we wouldn't last long." I leaned close, close enough to whisper in his ear. "But some of us would last a while, you little creep. Long enough to make sure that your parents…well, use your imagination."
He stepped back, drew back his fist, and swung on me. I dodged the blow. I grabbed his head with one arm and jammed the fork against his ear. I fought a nauseating urge to twist the fork, to make him scream in pain.
"You want a war between you and us, that's one thing. We'll play that out," I said. "But you try and sell us out to Visser Three, and your little family will never get put back together again. Never!"

----Book Twenty-Two, The Solution
Ifi
: Aaagh!
Adam
: Dude.
Adam
: Uncool.
Ifi
: So now they are like archrivals
Adam
: Now they have to fight, and when they punch each other they hit each other in the face at the same time, and the dramatic music starts playing.
Ifi
: Oh! And remember that thing with all the world leaders?
Adam
: It gets solved in the dumbest manner possible.
Ifi
: They're finally like, "This is really taking away from the main plot, let's get this over with."
It was also a mission we had to do. Period. Had to. If the Yeerks made Controllers of these guys, that was it. Game over.
We had tried a subtle approach. We'd walked into a trap.
Now Jake was ready for the less-than-subtle approach. This would be like when you're in a chess game and you know you're going to lose so you grab the board and throw it across the room.

----Book Twenty-Two, The Solution
Ifi
: I actually still can't believe that they do this
Adam
: I feel as if Rachel was the one who came up with this
I tore through a decorative trellis and stomped it to toothpicks. Then, a wall! I ran, slewed my head to the side, and slammed that wall with my right shoulder.
WHUMPF!
Crunch!
I backed up a step and swung my weight forward again.
WHUMPF!
Crrrrrunch!
<One more time!> I cried, laughing idiotically in my head. I backed up and this time there was no "whumpf!" just a tearing, breaking, twisting sound. All of a sudden, bright light shone out on me from the big hole I'd made in the wall.
Then I saw Marco in his new rhinoceros morph plow into and through the door. "Into and through" being all one motion.

----Book Twenty-Two, The Solution
Ifi
: And then this thing happens:
I shoved at the hole I'd made and found myself blinking in the bright light. Blinking and staring at Marco, and at the man sitting in an easy chair wearing a tuxedo shirt, a tie, black socks, and glossy black shoes. His tux coat and pants were draped over a chair. He had a somewhat familiar face. The leader of a great power.
He was sitting in his Jockey shorts and calmly pouring a glass from a bottle of clear liquor. Then he glared belligerently at me and Marco.
Now, I'm not going to say who this man was, or what nation he headed, but he was drunk. Drunk, but no coward. He just sat there in his underwear, glaring at us, defying us.
<What do we do?> Marco asked me.
<I guess we go tear up someone else's bungalow> I suggested. Suddenly about twelve security guys came bursting into the room, guns drawn. And not just handguns, either. These guys had automatic weapons on us.
But the man in the chair said something loud and curt in a foreign language. No one fired. The man in the chair made a sort of "after you" sweep with one hand, indicating that maybe Marco and I should leave.
So we did. We went out through another wall and dragged half the roof down with us, but we left.
Behind us I heard a loud roar of delighted laughter. Like we'd really made the old guy's day.

----Book Twenty-Two, The Solution
Ifi
: Uhhhh
Adam
: Politicians be crazy
Ifi
: What was the point of that whole thing?
Ifi
: I mean
Ifi
: You're currently saving the leaders of the free world and also worrying about some emogoth killing you all in your sleep and we get...this
Adam
: It really just comes off like they wanted to get it out of the way as fast as possible
Ifi
: Oh, definitely.
Ifi
: But I am really stuck on this scene
Ifi
: With the drunk dude
Ifi
: I want to like
Ifi
: read a book about him
Adam
: I think he is meant to be the Prime Minister of France or something.
Down the sand I saw the others, some staggering, some seemingly unhurt. I left Visser Three ranting and raving and took off on three good legs.
We ran for the water's edge, bullets whizzing after us, and plowed into the surf.
I began demorphing instantly, even as I continued to motor out against the waves. Demorphing would save my life. The bullets should drop harmlessly away, but even if they didn't, all the damage they'd done would be repaired. I was giddy. I was going to survive! I was laughing, laughing at the sheer, insane rush of it all. No weariness now, just mad, frantic glee at having escaped alive.
<How will they ever, ever explain that?> Tobias wondered.
<I don't know,> I said, <but that's one summit meeting no one will forget.>

----Book Twenty-Two, The Solution


Ifi
: So I guess that subplot is over.
Adam
: Oh well, it's not like they won't ever reschedule a world peace conference or anything.
Ifi
: So they swim home except David shows up as a killer whale
Ifi
: This is why they should use the hammerheads, not the dolphins
Ifi
: But Cassie has her Jesus Whale morph
If David had known much about whales, he'd have known that the humpback was almost powerless against him. It had no teeth. Just baleen.
But I guess there's something about seeing a creature the size of a house coming after you that makes you want to leave the area.
David left. But not before calling back to me, <Later, Rachel. There'll be another time.>

----Book Twenty-Two, The Solution
Adam
: Also, by now, David should have realized that Tobias is still alive.
Adam
: But I guess he can't count.
Adam
: Oh well.
Ifi
: Visser Three doesn't bother to count them half the time either
Ifi
: He never noticed that they went from 5 to 6
Adam
: Yes he did.
Adam
: In the last book, he acknowledged that David was with them.
Ifi
: No I meant with Ax
Adam
: Oh, yes.
Adam
: Well, he knew that there was a crashed Andalite vessel under the ocean at that time.
Adam
: So he was probably able to work out that they had rescued one.
Then Jordan came up and kicked my bed till I rolled over, face plastered with hair, eyes glued shut. "It'd better be good or you are going to wish you'd never been born!" I said.
"It's Saddler," Jordan said.
It took me several seconds to make sense of that. "Huh?"
"He's not doing very well, I guess. They think he's going to die."
Saddler. My cousin. Jake's cousin. Right. Yeah, now I remembered. He'd been hurt. He'd been moved to the children's hospital near us.

----Book Twenty-Two, The Solution
Ifi
: Oh right
Ifi
: This.
Adam
: This book depresses me.
Ifi
: So then David shows up and talks to Rachel in thought-speak from somewhere for a while
<You want rules, Rachel? I'll give you rules: Give me the blue box and I'm gone. I'll go to some other city. I'll take what I need. I have the power! But I want that box!>
"What for, you idiot? You want to make more Animorphs? Why? So they can do to you what you're trying to do to us?"
I guess that made him think. I thought it might.
<Stay away from my family, Rachel. I'll stay away from yours. Just you and me. That's the deal. You and me.>
"I'll take that challenge," I said.
<Cool. Now, hey, go ahead and enjoy your shower.>
He was silent after that. He said nothing more. Maybe he was really gone.
But for the first time, I decided to skip my shower.

----Book Twenty-Two, The Solution


Ifi
: Well that wasn't incredibly creepy
Adam
: Not at all
Adam
: Rachel seemed perfectly comfortable during this scene.
Ifi
: And the we get to the most evil thing David does during the entire trilogy.
Saddler's mother rushed to the head doctor. "Doctor Kaehler? What's happening? What's happening to my baby?"
Doctor Kaehler was one of the mad ones. "What's happening? Good question. Very good question. I have to tell you that we had a crisis here about an hour ago. Your son's heart stopped. We were rushing him to surgery, but in all honesty he was not going to make it."
"But—" she began.
The doctor ignored her. "I would have bet my entire career that Saddler would be gone within the hour. Then, as they were taking him up to the O.R., something happened with the elevator. It jammed or…or something. The nurse and doctor with him seem to have been knocked out. When they came to, the elevator was working again. They rushed your son to surgery where he …where he…opened his eyes!"
"What?"
"He opened his eyes. And he said, 'Hi.'"
Saddler's mother lost it. She shoved wildly through the gaggle of nurses and doctors. And there she stopped, staring in disbelief at her son. Saddler was sitting up in his bed. He looked as healthy as if he'd just stepped in from playing soccer.
"How?" Saddler's father asked.
The doctor just shook his head. "You tell me. There is apparently nothing wrong with your son. And I mean nothing. No broken bones—all healed. No internal injuries. No bruises, for crying out loud!"

----Book Twenty-Two, The Solution
Ifi
: ...
Adam
: "So of course we are going to let him go right home to his parents, instead of keeping him under study so we can figure out what happened and potentially save hundreds of lives in the future!"
Adam
: These are the worst doctors ever.
Ifi
: The real Saddler may or may not be dead yet
Adam
: I think the implication is that he is.
Adam
: And that David may or may not have killed him.
Ifi
: I don't think he directly killed him, because he doesn't like to kill humans, but just taking him away from the IV's might have been enough
Adam
: This makes sense.
Ifi
: So then the Animorphs sit in Cassie's barn and talk about how they have been defeated. Oh no.
Ifi
: "We are defeated. We did not script this in advance."
Ifi
: "I guess we should just give the morphing cube to David."
Ifi
: "That is a good idea. Let's just give up."
"Yeah, right," Marco sneered. "Here's fact five: David killed Tobias. And we're going to reward him?"
I exploded. "Hey! You think we like this? You think I, personally, like this? I hate that creepa-zoid. I would destroy him…if I could. But facts are facts, unless you're completely crazy."
Marco sneered. "I never thought I'd see the day. Fearless Rachel, mighty Xena: Warrior Princess, humiliated by some kid. You're done for, Rachel. No one will ever be impressed by you again. You're a joke."
I leaped at him and grabbed him by the throat. "Don't push me, Marco," I hissed.
He just laughed. "You know, I'm glad about this, at least," Marco said. "At least David shattered the myth of mighty Rachel. It's a good thing you did survive, because now you have to live with the fact that you got beaten by David. I guess maybe you're not Xena, after all. But David may just be Hercules."
I shoved Marco back and turned away from his mocking laughter.

----Book Twenty-Two, The Solution
Ifi
: If David thought this was real, he's the stupidest idiot who ever dumbed
Adam
: Sociopaths like it when other people feed their egos.
Adam
: Also, did Hercules beat Xena when they had a crossover?
Adam
: I don't think he did.
Ifi
: idk
Ifi
: So they meet David in the mall, promising that they'll give him the cube, only Cassie hid it.
Ifi
: Except they let him overheard that Rachel also knows where it was hidden, knowing David would insist Rachel bring him to it.
Ifi
: Because psychology
Adam
: According to this book, Cassie is practically telepathic.
Ifi
: It's true.
But I said, "I can't go in there with him. I don't trust him! He could—"
"Rachel," Jake said, dripping disgust, "you know, I always thought there was a coward hiding deep down inside all that tough talk of yours. Just do it. You want to remain an Animorph? You'll follow orders."
I nodded, meek and afraid.
David searched my face through Saddler's eyes. Was he suspicious? Had I overplayed my part?
Then he reached across and smeared the re-fried beans down the sleeve of my shirt. And laughed.
So I did something I don't do much. I started to cry.

----Book Twenty-Two, The Solution
Ifi
: David leapt to his feet. His chair went skidding back behind him and clattered to the cafeteria floor. "This is a trap, isn't it?" he cried, completely tipped off by the fact that Rachel was not currently feeding him his own entrails. --Ifi's version of events.
Adam
: ;_____;
Adam
: …I need a hug.
Ifi
: They all go to the construction site, where the cube is supposedly hidden.
Ifi
: David gets the others in cockroach form and puts them in a bottle.
Adam
: And he and Rachel go rat and climb into a pipe.
Ifi
: Yeah so the story is Cassie took the box apart and they hid it in various places inside the pipes
Adam
: I am so glad that I am not claustrophobic when I was reading this book.
We fell back, face-to-face, both bleeding. The pipe was on my right, on David's left. We were equally close to it. Equally far away. Both utterly blind.
<Be ready,> I told Jake grimly. <Be very, very ready. We have problems.>
David rushed at me, but this time I slid beneath his gnawing mouth, then jerked upward, throwing him off-balance.
I leaped for the exit.
Stopped!
He had my tail in his jaw. He was pulling me back. I couldn't reach him, and if I tried we'd go around in a circle like a dog chasing its tail. He'd be able to get back out of the pipe, maybe escape altogether in the sewer network.
<Have a good grip back there, Davey boy?> I said.
<You won't get away!>
<Yeah?> I twisted back, just as David hoped I would. Only I didn't attack him. Instead, ignoring the hideous pain, I chewed through my own tail.

----Book Twenty-Two, The Solution
Adam
: brb, sobbing.
I darted for the exit, and before I was halfway into it yelled, <NOW! NOW! NOW!>
The steel gate slammed down. It would have snagged my tail, if I'd still had one.
David slammed against the barrier. It was a dull thump. <No! NOOOOO!>
Suddenly, there was light everywhere. A flashlight shone right on my face. I blinked like a miner coming up after a day digging coal.
<Hey, you want to point that somewhere else?> I grumped.
In the light of two wavering flashlights, everything could be seen. The way the ground above the pipe had been dug up, baring the pipe. The way the pipe had been cut. And the steel box that had been affixed to the pipe end. Not to mention the sliding door that turned the box into a cage. A trap. The top of the box hinged up. But there was a strong wire grid to keep David inside.
There he was, a rat. He blinked up at the faces around him: Jake, Cassie, Marco, Ax. And my face as I quickly demorphed.
<No way! How did you get out of that bottle?> he demanded.
That's when Tobias swooped down from the dark sky and landed atop the cage.

----Book Twenty-Two, The Solution
Ifi
: Something very bad
Ifi
: is about to happen
Adam
: I need a blanket and some warm cocoa
"See, David," Marco said, "we knew you were in the barn, listening to our every word. How did we know? Tobias. So we played out that whole pathetic scene for you about how disgraced Rachel was. We knew you'd get so much sick pleasure out of forcing her to obey you."
"That piece of the blue box we retrieved? A Lego," I said.
<All of your actions, even your emotions, were anticipated,> Ax said. <We anticipated how you would respond. So we were able to manipulate you.>
<Okay, okay,> David said with a laugh. <Okay, so you guys won. That's cool. I can accept that. Fine, I'll go my own way now.>
No one said anything.
<Look, I'm serious, all right? Jake, you're the man, okay?>
I looked at Jake. He looked like he hated being alive. I turned my gaze to Marco. He was carefully staring into empty space.
Cassie was crying.

----Book Twenty-Two, The Solution
Adam
: Why are they suddenly a collective Doctor Evil?
Adam
: They have to explain their entire plan to him.
Ifi
: It's for the readers
Adam
: You and your logic.
Adam
: Okay, just continue with the horrifying.
<No,> David whispered as the truth began to dawn on him. <No, no. No.>
None of us had a watch, of course, since we'd morphed. But Ax was very accurate about keeping track of time. Jake looked at Ax. Ax showed no visible emotion. But I knew Ax well enough to know that he was not exactly enjoying any part of this.
<He has been in morph for thirteen minutes> Ax reported.
<No, no, no. You guys aren't going to do this!> David cried.

----Book Twenty-Two, The Solution
Ifi
: White mice have a lifespan of two years.
Ifi
: My little sister has one.
Adam
: I am just
Adam
: utterly traumatized.
Once we were sure he was trapped, Ax and I morphed. I morphed into bald eagle, Ax into harrier. We took turns carrying the helpless rat out across the beach, across the breaking surf, out to the tiny, desolate rock a mile or more from shore.
There were other rats there. Guess there had to be a food supply. But the rocks and the waves kept humans away from the place.
We left him there. And we flew away.

----Book Twenty-Two, The Solution
Adam
: Applegate, you are evil.
Adam
: Evil!
We never heard from David again. Not directly, at least. But months later I heard some kid at school talking about the rock.
It was haunted, he said. He and his family had passed close by on a boat. He swears he'd heard a faint, ragged voice crying, "No! No!"

----Book Twenty-Two, The Solution
Ifi
: The friggin end.
Adam
: This book
Adam
: Gave me nightmares.
Adam
: And I don't mean "it gave me nightmares as a kid when I originally read it."
Adam
: I mean, it gave me nightmares when I reread it for this review.
Adam
: I swear.
Adam
: Gah.
Adam
: Just.
Adam
: That ending.
Adam
: Gah
Ifi
: Now, I am led to believe that David actually comes back one more time. I never read the book, but I heard it was pretty bad.
Adam
: It was…an odd book, the one where he comes back.
Adam
: I wouldn't necessarily call it bad, per se.
Adam
: It certainly has the strangest cover in the series.
Ifi
: Yeah.
Ifi
: Not gonna argue with that.
Adam
: It's just a very, very strange book.
Adam
: But we won't get to that one in a while.
Ifi
: So. Let's never talk about this again.
Adam
: Indeed.
Adam
: Well, if it helps, the next book is practically a Disney movie.
Ifi
: Yeah, I haven't read that one in a while but there's something with baby bunny wabbits not getting eaten.
Adam
: No, there is one before that.
Ifi
: ?
Adam
: We are up to the Hork-Bajir Chronicles!
Adam
: Aka: Tarzan in Space!
Ifi
: OH MAN I FORGOT!
Adam
: And I mean that in the best way possible.
Ifi
: Yay we get to argue about Alloran's ethics some more!
Adam
: Yep!
Adam
: Stay tuned, everybody!
Ifi
: Run away, everybody!